The court records held by the Westchester County Archives can vary widely in the amount and types of information they provide to researchers. In addition, the early script with which they were written can make deciphering their contents a challenge. This is particularly true of the individual papers filed by record type from the late 18th century to mid 19th century that are indexed in the Archives' Court Records database. Finally, as described in the Archives' online guide to Using Court Records at the Westchester County Archives, many of these records can be highly standardized and contain few specific details about the court case itself.
Click on the images below to view full-sized images of some of the types of records that can be listed in the Archives' Court Records index. If you have any questions about locating and using court records at the Westchester County Archives, or what sort of information is available in those records not displayed here, please contact us.
After viewing a specific record, hit the "back" button on your browser to get back to this page to view another sample record.
Sample Affidavit, 1791
Sample Bail Piece, 1842

Sample Capias, 1823
Sample Judgement, 1836
Sample Narrative, 1804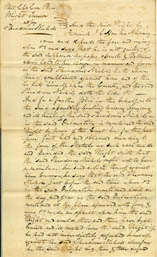 Sample Plea, 1824