The naturalization records held by the Westchester County Archives can vary widely in the amount and types of information they provide to researchers. Records produced after 1906 contain the most information. Click on the images below to view the full-sized images of the sample naturalization declarations and petitions.
You can use our online naturalization index to see the names of the individuals for whom we have naturalization records for the years 1808 to 1928. We are currently indexing our naturalization records through 1955. If you have any questions regarding locating and using naturalization records at the Westchester County Archives, please contact us.
Note: After viewing a specific record, hit the "back" button on your browser to get back to this page to view another sample record.
Sample Declaration of Intention, 1889
Sample Petition for Naturalization, 1909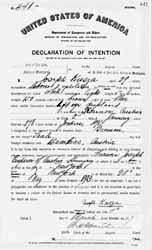 Sample Declaration of Intention, 1907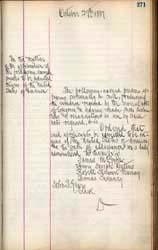 Sample Registration of Admittance, 1887