The Westchester County Archives is endeavoring to digitize many of its photographic collections, as well as maps and document-based collections, in order to improve accessibility to our collections. The Westchester County Archives Digital Collections Web site (hosted by CONTENTdm) contains item-level catalog records for entire collections. These records have been cataloged using CONTENTdm, a digital management software that allows all the catalog records to be searched using keywords.
Currently there are twenty-three digital collections:
Virtual Archives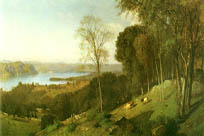 The Westchester County Archives serves as the backbone and continuum of the Virtual Archives. Its online projects were developed in collaboration with the Westchester County Historical Society, the agency that serves as the Westchester County Historian and whose partnership with the Westchester County Archives is essential to the site. In addition, other local governments, libraries, museums and historical societies have supported the website with contributions of their own important primary source materials.
Note: Because the Westchester County Archives is just one of many Westchester institutions contributing historical records to the Virtual Archives, be sure to check the individual item's catalog sheet and contact the appropriate repository for information regarding access to the original, reproduction and publication restrictions.
The topics exhibited on the Virtual Archives focus on some of the history for which the County is best known: