Dates: 1912-
Quantity: 3,000 items
Arrangement: Unarranged
Indexed: In an Archives in-house database available in the Reading Room.
Format: Mostly 8x10 black and white prints.
Small groups of photographs and individual prints, some found among record series, are cataloged in the General Photograph Collection. Included are images of various events, people, buildings, parks and parkways throughout Westchester County. The collection includes an important group of photographs of buildings and activities at the Grasslands Hospital/Westchester County Medical Center and construction photographs of several of the county's major parkways.
Sample Photographs:

Gas station, restaurant and comfort stations, Briarcliff Wells, on the
Bronx Parkway Extension [Taconic Parkway], 1930 (P-1033)

Preparing Cornerstone and Ribbon for Opening of Westchester County
Airport, 1945 (P-129)

Locomotive on the Putnam Line near Elmsford, n.d. (P-78)

Ice Wagon, n.d. (P-444)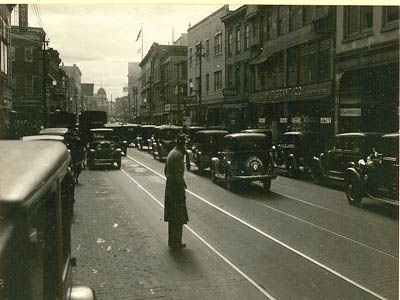 Busy city street in Port Chester, n.d. (P-64)