Dates: 1927-1941
Quantity: 6,400 items
Arrangement: Chronological
Indexed: Complete collection available online.
Format: Primarily 5x7 and 4x5 black and white prints and negatives.
Detailed photographs of Playland Amusement Park from its construction through 1941. Includes images of amusement rides, games, concessions, buildings, activities and performances. Also includes scenes from Playland beach and boardwalk. The park is an excellent example of Art Deco architecture and is on the National Register of Historic Places.
For more records about Playland, see Series 135: Playland Administrative Files, Series 136: Playland Concession Files and the Maps and Plans Collection, which includes building plans of Playland.
Sample Photographs:

View of Playland Mall, ca. 1935 (PPL-5895)

Kiddyland Whip at Playland, 1933 (PPL-1538)

Christiansen's show horses performing at Playland, ca. 1933 (PPL-275)

Shuffleboard players at Playland, 1930 (PPL-1221)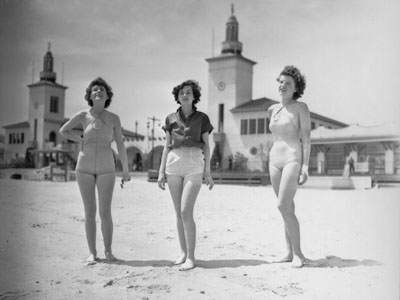 Young women at the beach at Playland, ca. 1935 (PPL-3003E)